Okay so I promised some pictures, and then I got distracted. You know, shiny things, they are... shiny. and Pretty. Sort of want to start a mag pie nest. But any way. So I thought I'd show some general non people photo's I'm particularly fond of. Nothing super amazing, but I'm thinking of printing off some of these, framing them, and seeing if they sell. Especially the kitchen ones. Here they are: PS: click to see biggggeeerrrrr if you want :)
Kitcheny things. Although I wonder if I could sell prints of the measuring spoons if they have kitchenaid on them? haha.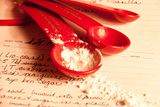 These are Whale Vertebrae at Pioneer park I shot one day. I just really love the texture and crevices.